Meet Marj Worley, REALTOR®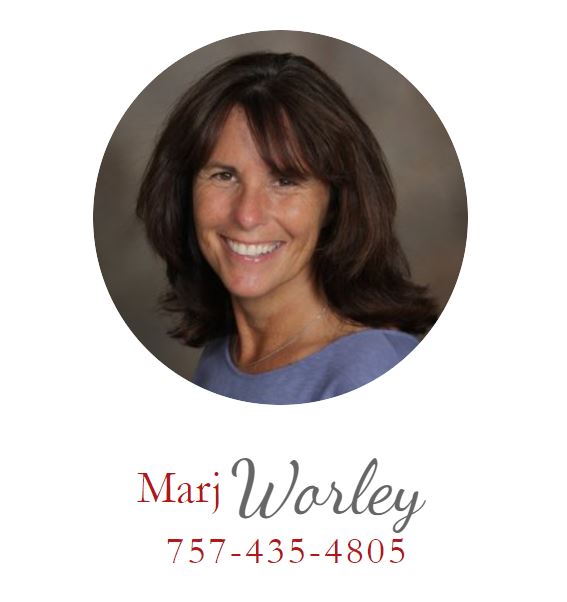 Marj Worley has an unsurpassed reputation in Hampton Roads as a top-notch Realtor. She has served her clients as a full-time Realtor since 2004. Marj and her husband moved to Hampton Roads in 2002; she received her Real Estate license in 2004, quickly becoming a rising star and winning the Rookie of the Year award for her company while raising two beautiful daughters. Marj built her stellar reputation client by client, always looking out for them and guiding them to make great decisions in what can be a complex process with many moving parts.

Marj is skilled in pricing, negotiations, and all aspects of real estate. She has been extremely successful in working with investors, in guiding people through very difficult short sales, and has worked in every price range there is, always giving the same unparalleled service; she is always available to assists her clients with the tools they need to be successful.

Marj has a masterful team of expert associates who also help with the process. Whether an inspector or a lender, to anything the client needs, Marj is there to help every step of the way with referrals that clients can trust. Additionally, Marj has been awarded Circle of Excellence multiple times, including the Platinum Level 2017. She has received the 5 Star Award for Customer Service as well which is given by clients and is very rare to receive.

Marj Worley competent, caring, and extremely knowledgeable. Having her by your side will ensure a smooth and successful transaction. You will be a raving fan and you will have a true friend by settlement.
What Clients Say About Marj Worley
When we started the process of looking for a home we knew exactly what we were looking for. Over the course of a year Marj assisted us through the process of selecting a home. She was a complete pleasure to work with. At no time did my wife and I ever feel pressured into making a purchase. In fact when we got to a point in our search that we felt like settling because we just couldn't find what we wanted in the area, Marj assured us that we should wait and continue to be patient and the right home would become available. We are now living in our dream home and couldn't be happier. Again I can't say enough above Marj's professional approach to buying and selling homes. The entire process we felt as though we were working with a life long friend. She made the home buying and selling process an enjoyable one. I would definitely recommend her to friends and family.
Wayne Smith - Virginia Beach

Marjorie Worley was amazing in every way. From the moment we started putting in offers on properties to more than a week after closing, she was incredible. Marj fought for the best prices and the most favorable terms for me. She knew right off the bat which types of properties I'd be interested in and which ones I was going to dislike. She knew the areas so well and helped me navigate a city I'd never been in before. She knew what things the home inspector would look for. She pointed out details, both problems and benefits, that I would never have noticed. She was always available and always made me feel like a priority. I'm sure she had other clients and other properties but she always made me feel like I was the only one. Marj made my life so easy. She was always available, always respectful and understanding, so easy to talk to, so patient with my questions, and so exactly what I needed. I was a first time home buyer and I couldn't have asked for a more perfect agent. She worked so hard and was so good at helping me navigate this process. She eased my worries and talked me through the parts I was confused over. I really feel like she was invested in my happiness. I can't recommend her enough.
Kylene L., Virginia Beach
She is absolutely amazing! We are thrilled with the way she managed complex circumstances and provided excellent communication with us as well as all involved. She is highly professional and truly seeks to represent her clients best interest at all times. We have referred several friends to her knowing they will receive the same level of outstanding service. She managed all aspects of the sale perfectly! She has become like part of our family. We will miss seeing her and our children adore her.
Dena Todd
More Testimonials