Meet Cathy Duncan, REALTOR®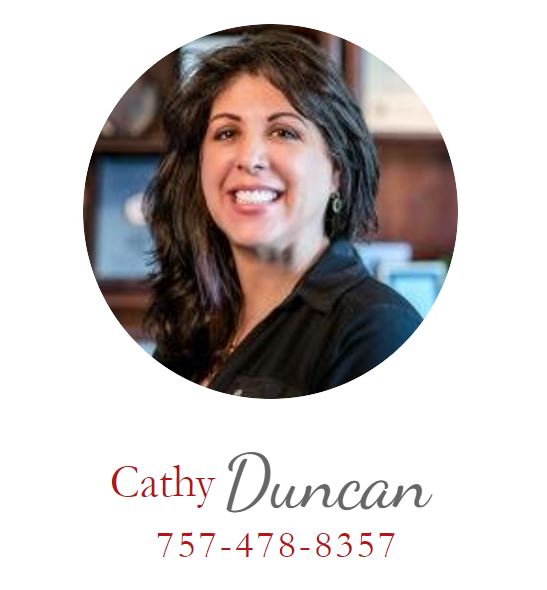 Cathy Duncan has served her clients as a full time Realtor since 2004, achieving the Longevity Award in 2015 from the Hampton Roads Realtor Association. Cathy and her husband moved to Hampton Roads after 9/11/2001. The tragedy in their own backyard inspired her husband to serve in law enforcement. Having Military family in the area, they decided it would be a great place to live and serve.

Cathy wanted to utilize her own set of skills to enrich the community as well. Those skills included a background in communications, marketing and contract negotiation. Real Estate was the perfect fit. Cathy holds a Masters Degree in English and Education.

Cathy skillfully aids her clients in make good decisions; she has a team of people to assist which she has vetted for many years. They must meet her high standards to be able to work with her clients. That is why Cathy loves being part of The Real Estate Group, LLC. Their leadership has been at the core of her value to her clients.

Cathy has a proven track record as a Listing Expert in pricing, negotiation and client counsel with hundreds of successful transactions behind her. Buyers can rely on her to negotiate on their behalf and counsel them every step of the way, even after the sale. Her business is based on satisfied clients with a nearly 100% repeat and referral based clientele.

Additionally, Cathy has been awarded 12 consecutive years of Circle of Excellence awards, including the Platinum Level award in 2015, 2016 and 2017. She has received the 5 Star Award for Customer Service every year since the inception of the award which is published in Coastal Magazine yearly. She has been named a 5 Star Realtor eight years in a row. This award is presented to fewer than 300 Agents out of 9000 in Hampton Roads.

Cathy is very experienced in all facets of Real Estate and she cares more about her clients than any award she has been given. Her clients happiness and satisfaction is her greatest reward.
Meet Marj Worley, REALTOR®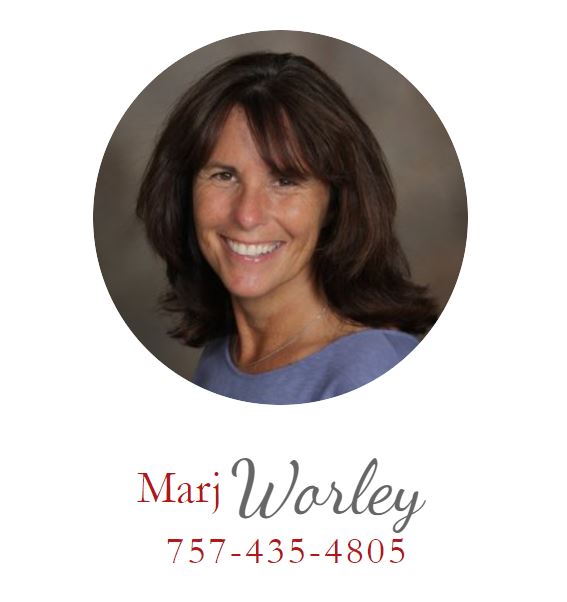 Marj Worley has an unsurpassed reputation in Hampton Roads as a top-notch Realtor. She has served her clients as a full-time Realtor since 2004. Marj and her husband moved to Hampton Roads in 2002; she received her Real Estate license in 2004, quickly becoming a rising star and winning the Rookie of the Year award for her company while raising two beautiful daughters. Marj built her stellar reputation client by client, always looking out for them and guiding them to make great decisions in what can be a complex process with many moving parts.

Marj is skilled in pricing, negotiations, and all aspects of real estate. She has been extremely successful in working with investors, in guiding people through very difficult short sales, and has worked in every price range there is, always giving the same unparalleled service; she is always available to assists her clients with the tools they need to be successful.

Marj has a masterful team of expert associates who also help with the process. Whether an inspector or a lender, to anything the client needs, Marj is there to help every step of the way with referrals that clients can trust. Additionally, Marj has been awarded Circle of Excellence multiple times, including the Platinum Level 2017. She has received the 5 Star Award for Customer Service as well which is given by clients and is very rare to receive.

Marj Worley competent, caring, and extremely knowledgeable. Having her by your side will ensure a smooth and successful transaction. You will be a raving fan and you will have a true friend by settlement.